(Compiled from people's memories as very little documentation exists from the early years.)
The Ormlie Lodge Photographic Club was formed in 1958 and membership was exclusive to Lodge residents and other Dounreay workers. Jimmy MacLean was a young postman in Thurso at the time and had friends who were in that photographic club. He was exasperated at not being able to join and so he and his friends decided to form Thurso Camera Club. From Jimmy's memory this was around 1960. Unfortunately, there are no surviving meeting minutes to give the exact start-up date.
Both camera clubs co-existed in the 1960s, with some of the Ormlie Lodge Photography Club members also being members of Thurso Camera Club. Eventually, the Dounreay club folded and most joined the Thurso Camera Club.
The initial meetings were held at the Thurso Social Cycling Club's premises in Gerry Square, Thurso, now the premises of the Caithness Cycling Club. More suitable premises were kindly provided by William and Jimmy Wilson of the Station Hotel. The hotel's cellar was taken over by the club and members had to give it good clear out and a fresh lick of paint. A dark room was created, work benches added and a portrait studio made.
Retired Wick High School Art teacher, Fergus Mather is also an original member and joined the club as a junior, along with his school friend Ian Campbell. He was in the Scouts at the time and working towards gaining his photography badge.
Fergus's camera was a Halina 35mm manual. Photography became his main interest and he attended Edinburgh's Art College to study art and came back to the club during the holiday breaks to learn even more from the experienced members. He bought a better camera with his summer earnings – a Yashica-mat twin lens reflex.
Fergus says that he owes a lot to the Club for encouraging and developing his artist talent, particularly Tom Wishart, whom he greatly admired. Fergus kept some of his photographs that were taken in the basement of the Station Hotel in the early 60s and took photos of the prints by using his latest Canon 5D digital camera. A selection can be seen on this page.
The initial members were around 20 in number and from the memories of Jimmy and Fergus, included;
· Peter Paterson (the first Chairman)
The club met once per month throughout the whole year. Jimmy recalls that Thurso's professional photographers, Maurice Harrington and Mario Luciani, both gave very helpful advice and guidance to club members. Fergus remembers Mr Harrington kindly developing his photographs for him, so that he could enter the club competitions.
The club has never owned its' own premises and has rented rooms in the following venues over the years;
·
Thurso Social Cycling Club premises, Gerry Square
·
Labour Party Rooms, Swanson Street
·
Miller Academy Primary School
The first Chairman was Peter Paterson and other Chairmen over the years include;
Dr Roberts, Thurso College Principal, Jock Liddle, Dave Sprague, Neil Buchan, Colin Gregory & Bob Murdoch. The present chairman is James Gunn, Halkirk, who is a regular contributor to the Groat and Courier of sports action photos.
Two stalwarts of special mention are Jock Liddle and Dave Sprague. Jock Liddle was Chairman for over 25 years from the 1970s to the 1990s. Dave Sprague was Secretary for over 25 years over the same period and his tireless enthusiasm kept the club from folding when membership dropped to only a handful. Bob Johnson is a current stalwart of the club, having joined in 1986.
In the recent past the club gave images for the Caithness calendar that was promoted and sold by the North of Scotland Newspapers. In 2019 the club gave images of Thurso to the Scrabster Harbour Trust for their cruise liner tourist leaflet.
The club has always been involved with the local community. In the 1980s the club converted a room in the Ormlie Lodge Hostel into a fully kitted dark room, for use by members and residents. In the 1990s it produced a slideshow of Caithness images that was used by the local tourist board to promote Caithness. The club also took it on a grand tour to meetings of numerous local clubs and organisations.
The club currently helps the hair and beauty students at the UHI North Highland College to compile their exam assessments by taking professional standard photos of their work for their individual portfolios.
This has been on-going for many years and takes place every Spring.
In 2019 and 2020 the club produced images of Caithness and North Sutherland for the Caithness Collection calendar (Pentland, Castletown and Norseman hotels) and so help to promote the North of Scotland as a tourist destination.
The club's constitution has the following objective;
"The furtherance of multi-media photographic art and technique among amateur workers and others; by exchanging friendly ideas and mutual assistance among members as well as organising, holding and participating in lectures, presentations, demonstrations, exhibitions, competitions, field trips, training events and such like."
In 2020 there are 20 very enthusiastic members and the club
holds its' indoor meetings on the first and third Mondays from September through to April, in the Pentland Hotel, Thurso. From May to August there are field trips throughout Caithness and Sutherland.
Over the years, guest speakers have given presentations, talks and demonstrations to club members. They range from enthusiastic amateurs to full time professional photographers. Despite being the British mainland's furthest north camera club, it attracts guest speakers from all over Caithness, Scotland and the UK.
The club is particularly proud of having attracted two world renowned photographers from England in the last 10 years. Damian McGillicuddy and John Denton both brought along a professional model for a practical photoshoot demonstration.
Damian McGillicuddy
is an ambassador for Olympus cameras
and is based in Widnes. He is a working commercial and portrait photographer for over 30 years and shoots all genres from fashion to sports men and women footballers, pop stars, celebrities, politicians, musicians to motorsport. He has worked in commercial and editorial photography sectors worldwide for such companies as Olympus, L'Oreal, Aston Martin and Vogue magazine.
John Denton
, an ambassador for Elinchrom lighting and Permajet paper is based in Birmingham. He is a wedding and fashion photographer and trainer, with commissions all over the world.
The club has held numerous exhibitions over the years to showcase members work to the public. The venue in 2016 and 2020 was the art gallery in Thurso library. Around 40 professionally mounted prints and 100 projected digital images were on display for 4 weeks. Over 500 attended each time and the feedback was very positive.
The highlight in the club's history was winning the Highland Challenge competition in 2015. This is a prestigious annual competition between all the clubs in the Highlands and Islands from Shetland down to Nairn. Every club submits ten photos to be judged by an independent professional photographer and the results are announced at a big social event with members from all clubs in attendance, usually around 120 in number. The club has hosted the Highland Challenge event in 2001, 2006, 2013 and 2019.
The club has a
Facebook page
where the latest news and images are regularly posted.
Thurso Camera Club Chairman
e-mail:
jbgunn4@btinternet.com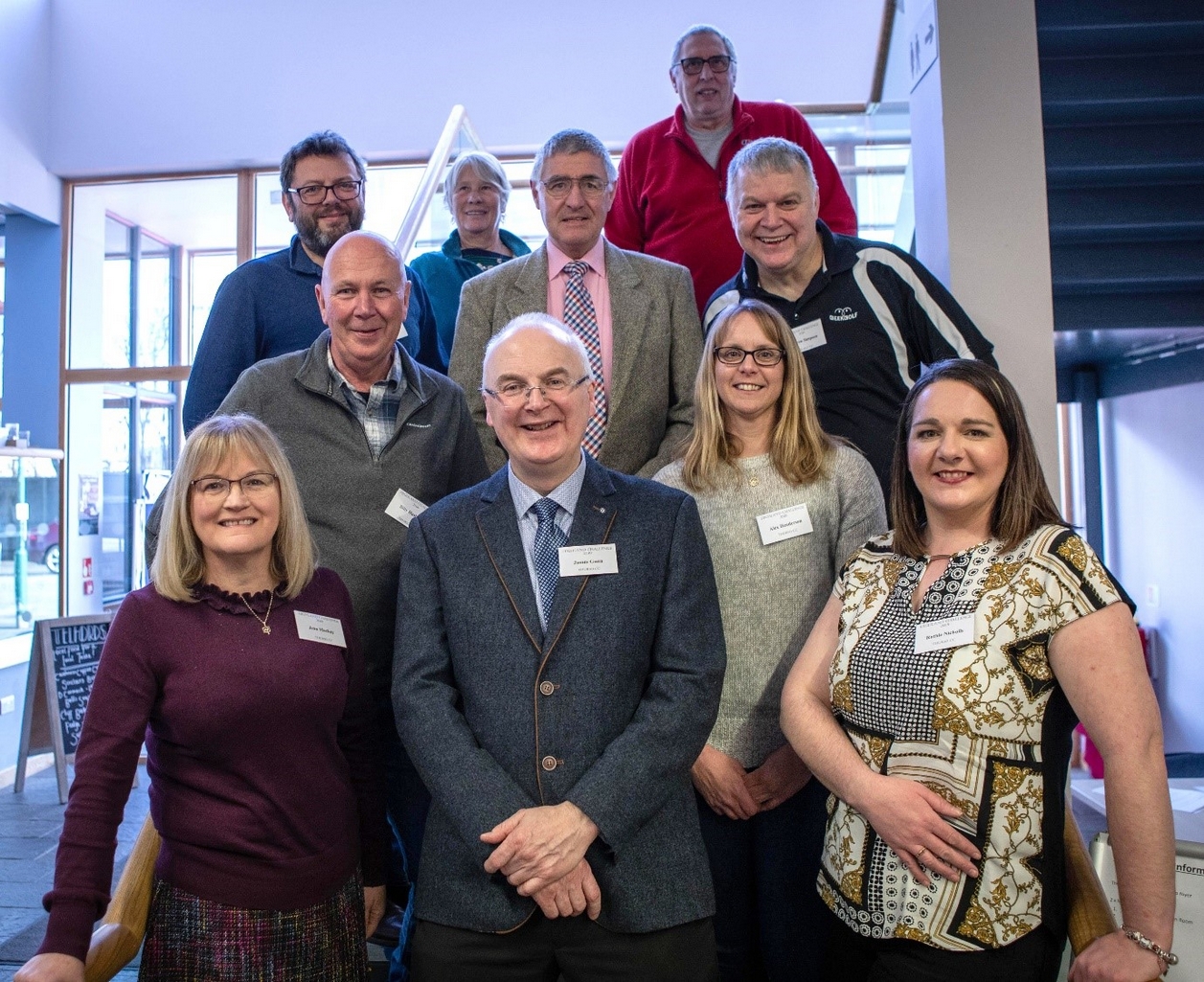 Chairman James Gunn (centre front) with fellow club members at the 2019 Highland Challenge competition in the Pulteney Centre, Wick. The event was hosted by Thurso Camera Club in March 2019, with nearly 100 photographers from 9 Camera Clubs in attendance.

Front to back (left to right):

Jean MacKay, James Gunn, Alex Henderson, Ruthie Nicholls, Billy Husband, Bob Murdoch, Andrew Simpson, Gareth Watkins, Julie Catterall, Tony Beck.